Updated July 2012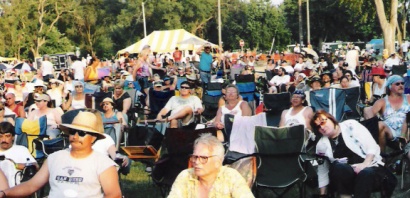 Here a few things first time Prairie Dog Blues Festival attendees should know:
Once you have laid foot on the festival grounds, and become entranced with the stellar Blues and Roots performing groups you are now considered a Prairie Dogger.
The festival is well know for providing a perfect balance of established Blues and Roots artists along with the cream of the up and coming crop.
Be sure to bring your own chairs or blankets to find your spot in the festival seating area.
You are welcome to bring in your own cooler containing ice only but you may not carry in other beverages of any kind.
Updated: July 2012
The Beer Tent is well stocked with a variety of beverages and food vendors range from straight up burgers n bbq to cajun and more!
The Beer Tent is also the scene for another stage of entertainment and this year the stage will be graced by the likes of,  Matthew Curry and Furry & the Terry Quiett Band.
Prairie Doggers do not have to get out of their chairs and walk to beer tents for their beverages the famous Prairie Dog Beer Girls deliver to your seat.
Shuttle service is available to many local hotels.  Prairie Doggers also choose to camp, arrive by boat and even by air…This festival is well known by Blues and Roots fans all over the world!  Get the full dish here.